This Podiatrist-approved Shoe Brand Has a Comfortable Pair for Every Kind of Trip
By Andie Kanaras
Packing shoes for your vacation can make or break your travel plans. According to Dr. Hillary Brenner, a podiatrist with offices in New York City and New Jersey, most of her patients only come to her after a travel-related foot injury. She advises people to purchase shoes that are fit for their next adventure, and Easy Spirit offers plenty of podiatrist-approved kicks from sneakers to sandals. Learn more about their shoes' features and benefits here, and use the offer code LETSTRAVEL for 20 percent off your order at easyspirit.com.
This content is funded by Easy Spirit and produced by our eCommerce content team on their behalf.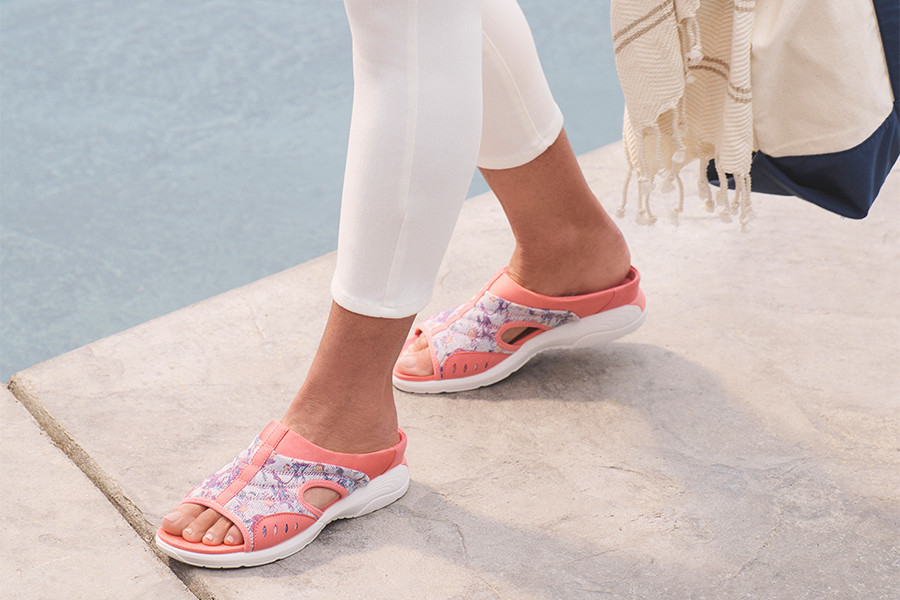 Prices and product availability are subject to change.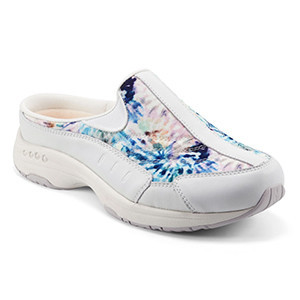 Make your way from the airport to your destination with ease thanks to these best-selling clogs. They offer Dr. Brenner's favorite shoe features: a wide chunky heel, arch support, and supportive treads. She also likes that the backless design won't rub against any bony prominences, which sometimes causes blisters immediately or bunions over time. Meanwhile, over 6,000 customers rave about this best-seller of 30-plus years because of its cloud-like comfort that will keep you coming back for more styles.
To buy: easyspirit.com, $69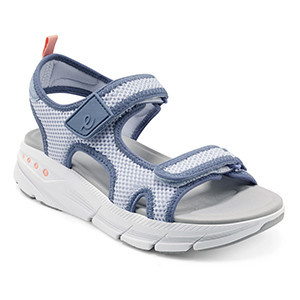 2
Maison EMOVE Walking Sandals
Enjoy comfort in every step with these walking sandals. They're constructed with Easy Spirit's latest EMOVE technology to offer maximum support, superior cushioning, and shock absorption. Dr. Brenner likes the treads on the bottom of these sandals for extra stability and the rocker bottom for fighting foot fatigue. She suggests wearing them for activities like shopping, walking along the boardwalk, and exploring a coastal town.
To buy: easyspirit.com, $79
Shop These Walking Sandals Now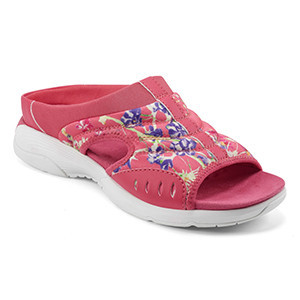 3
Traciee Slip On Sandals
Don't forget to pack these super-soft slip-on sandals with comfort cushioning for your next lakeshore getaway. Over 2,500 customers love this shoe's cushioned footbed and the variety of colors and patterns it comes in making styling outfits fun. This shoe is multi purpose; grabbing dinner with the family to strolling along the shore with your pup. Dr. Brenner particularly likes that these shoes come in four widths, which is great for people who have hammertoes or bunions because finding the right fit can help relieve pain and prevent future conditions.
To buy: easyspirit.com, $65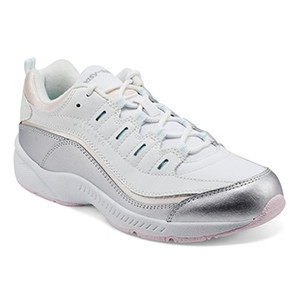 Everyone needs a go-to walking shoe, and these have unique foot support and stability thanks to their streamlined design and ghillie lace system. According to Dr. Breener, walking shoes like these are helpful for travelers of all ages as well as those who have pain along the top of their foot. They're especially helpful for camping trips or road trips where you're walking or exploring different terrains. Tip: Dr. Brenner suggests finding your best shoe size by trying on styles midday (when your feet are most true to size). And with Romy's orthotic friendly construction, you can swap out the footbed for an orthotic option for a truly personalized fit.
To buy: easyspirit.com, $79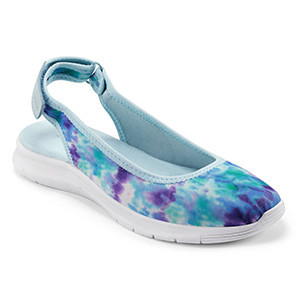 5
Gracee Slingback Walking Shoes
According to Dr. Brenner, you won't find a more supportive and adorable version of this style online. These slingback shoes include a hook and loop closure for stability and a custom-like fit with a chunky heel for extra cushioning. Dr. Brenner also loves that this shoe comes with a spacious toe box and stretch-knit fabric so your feet won't cramp up throughout the day. We suggest you wear them when you're roaming around a museum or strolling through a gorgeous city park so you can stay on your feet comfortably all day long.
To buy: easyspirit.com, $69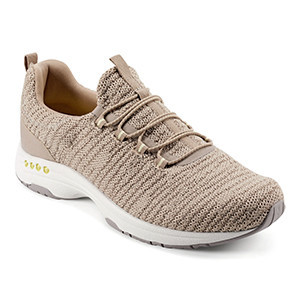 Inspired by Easy Spirit's number-one best-selling Traveltime Clogs, these slip-on sneakers will become your new favorites. Dr. Brenner says they tick off all her podiatrist-approved boxes, from having a roomy toe box to a cushioned high back. Each pair also comes with a thick arch and heel to help with shock absorption and provide extra heel support. Best of all, you can wear these sneakers all day in any balmy destination—whether that's on a long nature trail or cobblestoned streets—thanks to its breathable knit fabric.
To buy: easyspirit.com, $79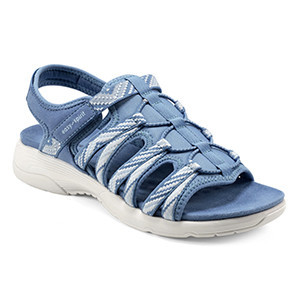 Take beach walks to a new level with these easy and comfy sports sandals. They're not only breathable and lightweight but stable enough to walk on sand and explore the boardwalk, too. Even better, the lace up design and flexible back strap ensure full coverage support from heel to toe.
To buy: easyspirit.com, $69